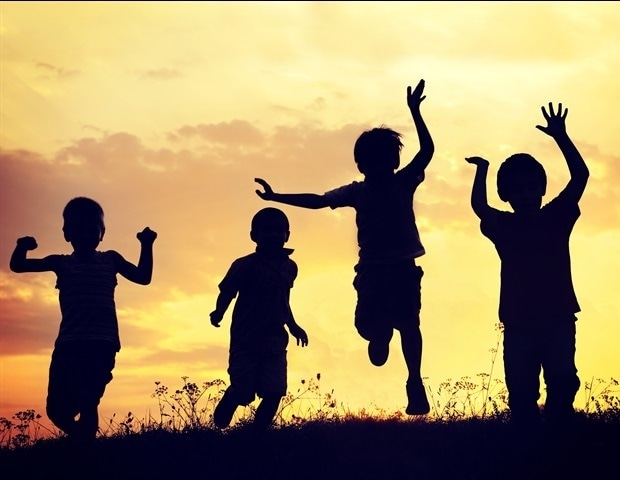 Immunology expertise has combined with beautifully evocative illustrations to create an engaging book for children and their parents. A new children's book 'Battle Robots of the Blood' launches today on Amazon. The book's story was developed by Professor Adrian Liston, a senior group leader at the Babraham Institute, and visually brought to life by scientist and illustrator Dr Sonia Agüera-Gonzalez (Tenmei).
Speaking about his motivation for developing the book, Prof. Liston said:
I have been working on understanding primary immune deficiencies for more than 10 years now. I have such tremendous respect for these kids – they are tough and unphased by situations that would have adults in tears. Vaccines are such an easy way that we can help. The science is clear: vaccines are the almost perfect medicine. And yet the anti-vax movement keeps on spreading lies. As an immunologist I want to fight back not only with science, but also with stories, to engage children and parents on the benefits of vaccination.

Creating the book was a huge amount of fun. I drew inspiration from my own son's matter-of-fact approach to life. Sonia brought in her own experience as an immunologist and her illustrations beautifully bring the emotion of the story to life."
The book tells the story of Tim, a seven year old who lives a slightly different life to the majority of us. After being introduced to different aspects of Tim's life, we find out that he has a primary immune deficiency disorder, which means that his immune system can't protect him against attack from the bacteria and viruses that cause disease. This puts him in in grave danger, especially when exposed to diseases that people could be protected against by vaccination. The story is told in an engaging and light-hearted manner, but still carries the message that vaccination is important for everyone and protects the most vulnerable.
Professor Liston has drawn upon the linguistic skills of his international laboratory and the Institute's diverse community to translate the book into nine additional languages, to be released soon. Speaking about the translations, Prof. Liston explained: "The coronavirus pandemic teaches us that viruses don't respect borders or linguistic barriers. For vaccination to be truly effective at protecting vulnerable people like Tim, we need to have almost everyone else in the community vaccinated. As scientists we have been historically poor at reaching out to the immigrant component of our communities, and this is reflected by lower vaccination rates. The Babraham Institute works to engage all people in our community, and publishing translations in languages from Hindu and Urdu to Polish and French is a way of engaging us all in the fight against infectious diseases".
At the end of the book, there are educational materials. For Dr. Agüera-Gonzalez it was important to include science activities. "Most of the science educational books out there cover experiments and concepts for older children, usually for ten-year-olds and above. Last year I found a father unsuccessfully searching for activity books in a bookstore with his five year old daughter, and I thought then I wanted to fill that gap. I wanted to provide parents and teachers with not only a book, but an experience to learn about immune deficiencies and vaccination at home or in the classroom."
The book is available to read from the kindle store on Amazon [Amazon.co.uk and Amazon.com] as an e-book for free during the coronavirus lock-down and is also available to order in hard copy. Proceeds from the book will be used to fund immunology research at the Babraham Institute and to support public engagement activities around immunology and vaccination.
Read the book in Dutch, German, French and Spanish: