The world is one small step closer to having a vaccine against the novel coronavirus as Moderna, a U.S. based biotechnology firm, announced promising early results in its phase I trial of its vaccine candidate.
Moderna, who partnered with the National Institutes of Health, announced that its candidate vaccine appeared to be safe when administered to eight healthy volunteers. The vaccine also stimulated an immune response to the severe acute respiratory syndrome coronavirus 2 (SARS-CoV-2), the virus that causes the coronavirus disease (COVID-19).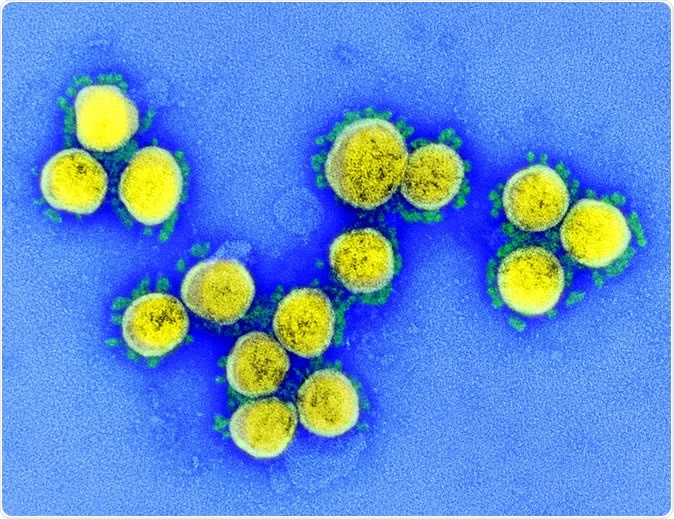 SARS-CoV-2 – Transmission electron micrograph of SARS-CoV-2 virus particles, isolated from a patient. Image captured and color-enhanced at the NIAID Integrated Research Facility (IRF) in Fort Detrick, Maryland. Credit: NIAID
The vaccine
The mRNA vaccine, called mRNA-1273, is a jab that aims to prompt an immune response to fight an ongoing infection.
Messenger RNA (mRNA)-based vaccine technology is an innovative and emerging approach to develop a vaccine for the coronavirus infection. In the global race of finding a vaccine, 18 mRNA-based vaccine candidates are in development for COVID-19.
Moderna, which specializes in developing therapies based on mRNA molecules, was the first company to test a vaccine against SARS-CoV-2 in humans. The phase I study, which was run by the National Institute of Allergy and Infectious Diseases (NIAID), provides insight on the potential of the vaccine in neutralizing the virus.
The trial
In the trial, eight healthy volunteers received three dose levels of the vaccine given in two injections one month apart. The patients who received the two lowest dose levels, 25 micrograms, and 100 micrograms, developed antibodies against the SARS-CoV-2, two weeks after receiving the second dose.
The participants who received the vaccine appear to generate an immune response akin to the response seen in people who have recovered from COVID-19.
"These interim Phase 1 data, while early, demonstrate that vaccination with mRNA-1273 elicits an immune response of the magnitude caused by natural infection starting with a dose as low as 25 µg," Tal Zaks, Moderna's chief medical officer, said in a statement.

"When combined with the success in preventing viral replication in the lungs of a pre-clinical challenge model at a dose that elicited similar levels of neutralizing antibodies, these data substantiate our belief that mRNA-1273 has the potential to prevent COVID-19 disease and advance our ability to select a dose for pivotal trials," he added.
Though the data was limited, and from only a small number of participants, the results are still promising. Now, they plan to test a 50-microgram dose to see if it will work better. As the vaccine's developers work to establish a dose, they must achieve adequate protection in those who will receive the vaccine, including older adults, who are at the highest risk of severe COVID-19 and whose immune systems do not respond well to vaccines.
Modera said it would begin a second phase of the trial soon, which will include about 600 healthy adults, wherein 300 are from ages 18 to 55, and another 300 who are more than 55 years old. The Phase 3 clinical trials will commence by July, which will include thousands of people.
The need for a vaccine
With millions awaiting an effective vaccine, health experts worry about how to distribute it once it is available. In the United States alone, about 350 million doses will be administered. Health experts said that it is essential to have a carefully crafted list of who will be immunized first.
The World Health Organization (WHO) has a group called the Strategic Advisory Group of Experts on Immunization who will oversee the distribution and administration of the vaccine.
The world grapples with the coronavirus disease, with over 4.89 million people infected with the virus. Of that number, about 1.67 million have recovered. Since the start of the pandemic, more than 323,000 people have died, while the virus had touched 188 countries and territories across the globe. The United States has the highest number of cases, with over 1.52 million people infected. The country has also reported the highest death toll at nearly 92,000.
Russia is now second with more than 299,000 confirmed cases, while Brazil has more than 271,000 confirmed cases. The United Kingdom, Spain, and Italy report high case tolls, with more than 250,000, 232,000, and 226,000 confirmed cases, respectively.
Many countries have eased their restrictions despite the continuous spike of cases, which is worrying many health experts. Without an effective vaccine, people might still get infected if they do not practice strict social distancing measures. While vaccines are still in development, health experts urged people to wash their hands, practice social distancing, and high-risk population to stay home and self-isolate.