Millions of persons around the world suffer from diseased and damaged heart valves. These patients require valve repair surgeries, and often when that is not possible, they need to take blood-thinners for life to prevent complications.
Researchers from the universities of Bristol and Cambridge have now developed a new artificial polymeric heart valve that could be used in these patients to correct the valve defects. Their results from in vitro and in vivo studies in the lab have been published in the latest issue of the journal Biomaterials Science.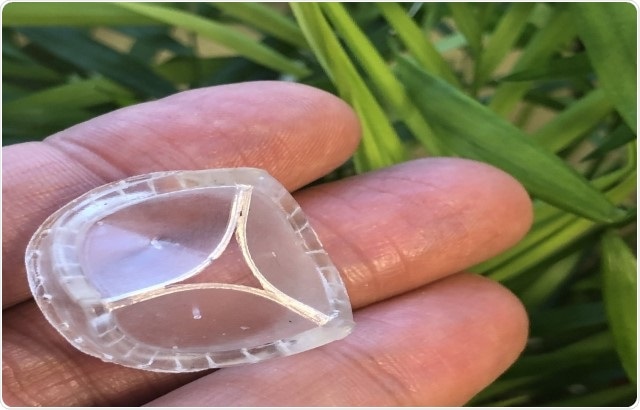 PoliValve, Novel Polymeric Heart Valve Prosthesis
Heart valve disease and options
The researchers wrote that around the world, over 1.3 million people suffer from diseased and damaged heart valves, and their heart valves need repair or replacement. At present, two artificial valves are available for use. These are typically short-lasting, and they often need replacement and concomitant use of blood thinners to prevent complications. There is also a problem of biocompatibility explain the researchers. The available heart valves are often not compatible with the recipient, and clots and other inflammatory reactions may result due to this incompatibility. This leads to the failure of the replacement surgery.
In addition, biological valves are also available for replacement. Experts have used pig or cow tissues to create biocompatible heart valves, which can be implanted onto patients. These patients do not need blood thinner tablets after surgery because of the biocompatibility. The problem with these biological valves, however, is that these tend to last for around ten to fifteen years only. Mechanical valves, on the other hand, have poor biocompatibility and require blood thinners to prevent deadly complications due to blood clots.
What is this new valve?
The team of researchers developed PoliValve, which is a polymeric heart valve. The team explained that valve repair and other methods of correction of valve repair often have a short life. This new valve that they have developed has the potential to work effectively for up to 25 years, they wrote.
The PoliValve was developed by a team led by Professor Geoff Moggridge, Head of the Structured Materials Group at Cambridge's Department of Chemical Engineering and Biotechnology and Dr. Marta Serrani and Dr. Joanna Stasiak at Cambridge and Professor Ascione in Bristol. An earlier study by Professor Costantino developed a special co-polymer that was fashioned into a heart valve. A simple molding process was used to create this valve.
The new PoliValve was tested by a team led by Professor Moggridge and Professor Raimondo Ascione, NHS Adult Cardiac Surgeon and Head of the Translational Biomedical Research Centre (TBRC) at the University of Bristol. The teams tested the new valve extra-vivo and in-vivo before publication.
Advantage PoliValve
The new PoliValve is durable, flexible, and biocompatible, and this helps it score over the existing mechanical and biological valves. Due to the simple process of molding used to create the valve, it is also significantly cheaper to produce and cuts down on the manufacture, and quality control costs wrote the researchers.
Professor Moggridge, said in a statement, "These impressive results show the PoliValve is a promising alternative for valve replacement surgery. While further testing is needed, we think it could make a major difference to the hundreds of thousands of patients who get valve replacement surgery every year."
Tests the valve underwent and next steps
The valve is now being tested on animals at the Bristol's Translational Biomedical Research Centre (TBRC) facility. As a next step, the team of researchers is looking to check the durability of the valve.
To prove its mettle, the PoliValve must undergo at least 200 million repetitions of opening and closing during in vitro testing in the labs. This would be equivalent to five years of life. It is only after withstanding these ISO standards that it can be tested on humans. PoliValve has passed this preliminary test, wrote the researchers. It has also passed the mandatory hydrodynamic testing and proved to be comparable to the presently available biological valves. The initial study in vivo was done on three sheep. It was noted that this new valve is easy to implant (stitch in), shows no mechanical failure, no reverse flow of blood (trans-valvular regurgitation), low trans-valvular gradients and good biocompatibility when histopathological studies were done.
Expert comments
Professor Sir Nilesh Samani, Medical Director at the British Heart Foundation, in a statement, said, "Patients requiring an artificial heart valve are often faced with the dilemma of choosing between a metallic or tissue valve replacement." He said, "A metallic valve is long-lasting but requires the patient to take lifelong blood-thinning drugs. Although this medication prevents clots from forming on the valve, it also increases the risk of serious bleeding. Patients who have a tissue valve replacement usually don't need to take this medication. However, the valve is less durable and means the patient may face further surgery." Speaking about PoliValve he said, "The polymer valve combines the benefits of both – it is durable and would not require the need for blood-thinning drugs. While further testing is needed before this valve can be used in patients, this is a promising development, and the BHF is pleased to have supported this research."
Professor Ascione said, "The transformational PoliValve results from an advanced Bristol/Cambridge-based biomedical cross-fertilization between experts in biomaterials, computational modeling, advanced preclinical development/testing and clinical academics understanding the patient needs. The new valve could help millions of people worldwide, and we aim to test in patients within the next five years."
Journal reference:
Design, Development, Testing at ISO standards and in-vivo feasibility study of a novel Polymeric Heart Valve Prosthesis, Joanna Stasiak, Marta Serrani, Eugenia Biral, James Taylor, Azfar Zaman, Samantha Jones, Thomas Ness, Francesco de Gaetano, Maria Laura Costantino, Vito Domenico Bruno, M.-Saadeh Suleiman, Raimomdo Ascione and Geoff Moggridge, Biomater. Sci., 2020, https://doi.org/10.1039/D0BM00412J