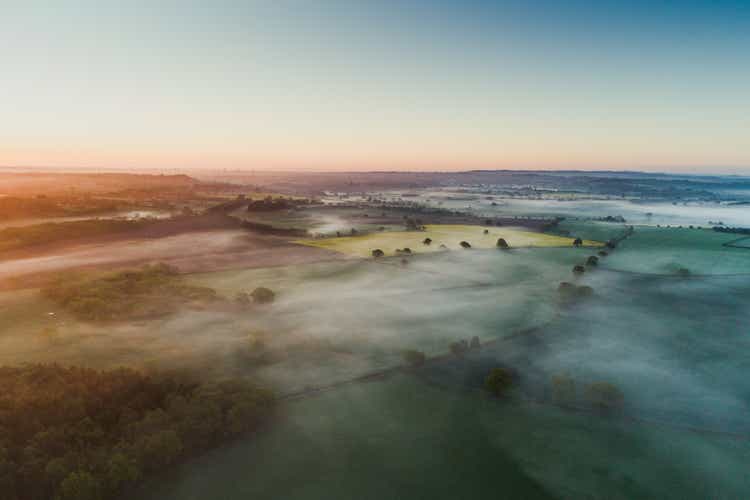 First Trust NYSE Arca Biotechnology Index Fund (FBT) is an exchange traded fund launched and managed by First Trust Advisors L.P. It invests in public equity markets of the United States. Though the fund intends to invest in stocks of companies operating across health care, pharmaceuticals, biotechnology and life sciences sectors, its investments are highly concentrated in biotechnology. It seeks to track the performance of the NYSE Arca Biotechnology Index (BTK), by using full replication techniques. As a result, the fund generally invests at least 90% of its net assets (including investment borrowings) in the common stocks and depositary receipts that comprise the index. Thus, almost all the investments are in biotechnology and related sector, i.e. Life sciences tools & services. Because many small and mid cap biotechnology stocks constitute the NYSE Arca Biotechnology Index, there are significant investments in growth and value stocks.
Major Holdings as of 31st December, 2021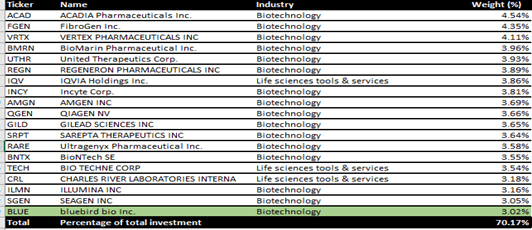 Source: FBT Holdings | MarketWatch
As of December, 31st, 2021, the fund had significant holdings (3 percent and above of its total portfolio) only in stocks of biotechnology, and life sciences tools & services sector. It invested 70 percent of its total holdings only in 19 stocks. At that point the market price of FBT was 163.12 (price recorded on 30th December). That portfolio was extremely concentrated on biotechnology, and also held various other biotechnology stocks in smaller quantities.

Source: First Trust NYSE Arca Biotechnology Index ETF Momentum Performance
The fund has historically performed well, and have beat the returns of S&P 500, banking on the rise of biotechnology stocks. However over the past one year, the return has been lower than S&P 500, and it is in a downward trend. The fund saw a series of minor falls to reach the current level of around $141, which is very close to the 52 week low of $138.59. There is a likelihood of this price falling further down to cross the 52 week low, before it may bounce back. This assumption gets further validation as the long-term moving average of this fund is positioned above the short-term moving average.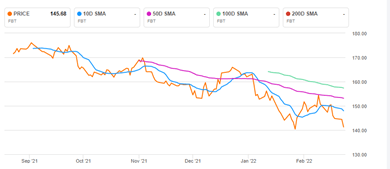 Source: First Trust NYSE Arca Biotechnology Index ETF Momentum Performance
As the fund and its benchmark index by principal are invested in biotechnology stocks, there is hardly any room for diversification. Being a passive fund, it has very limited options and can't shy away from the market risk. First Trust Advisors L.P., which operates FBT, does not attempt to take defensive positions under any market conditions, including declining markets. Long term performance of FBT thus will primarily depend upon the selection of growth stocks and the percentage of funds invested in those stocks.

Exclusion of Moderna Inc. (MRNA) in its major holdings, implies that this fund is quite conservative in composition of its portfolio. As you will know, Moderna's stock rose 25x at its peak, and the stock stayed buoyant when every other stock had fallen. And when Moderna fell recently, the healthcare (including biotechnology) sector as a whole had started bullish trends by then. There are funds like Tekla Life Sciences Investors (HQH), that were able to stay strong during this turbulence, primarily due to Moderna.
First Trust NYSE Arca Biotechnology Index Fund is one of those funds which does not pay any dividend. It paid a quarterly dividend in the 4th quarter of 2014, and the first three quarters of 2015. It hasn't paid any dividend since then. So, this fund is outside the purview of income seeking investors. Investors have to rely only on the price growth of this ETF.

Source: Stock Picks, Stock Market Investing
So, the investment decision will solely depend upon the expected future performance of the fund over the long run,, which will directly depend upon the performance of its benchmark NYSE Arca Biotechnology Index. This "Index is an equal dollar weighted index designed to measure the performance of a cross section of companies in the biotechnology industry that are primarily involved in the use of biological processes to develop products or provide services. Such processes include, but are not limited to, recombinant DNA technology, molecular biology, genetic engineering, monoclonal antibody-based technology, lipid/liposome technology, and genomics".
NYSE Arca Biotechnology Index has an extremely systematic approach to investment. It invests only in biotechnology stocks with a market capitalization of more than $1 billion, and a three-month average daily traded value of more than $1 million. "The index is rebalanced quarterly based upon closing prices on the third Friday in January, April, July & October to ensure that each component stock continues to represent an approximately equal weight in the index". Its portfolio consists of only 30 stocks.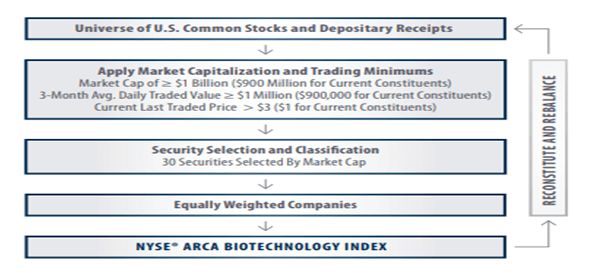 In order to understand the future price performance of either NYSE Arca Biotechnology Index or First Trust NYSE Arca Biotechnology Index Fund, we thus have to understand three things – 1) Future growth prospects of the biotechnology sector 2) Efficiency of portfolio rebalancing and 3) Price multiples.
The ongoing pandemic has shown the entire world how important biotechnology is. As we come across more and more variants of covid or other viruses, the role of biotechnology is going to be profound. In addition, for the diagnosis, treatment and prevention of already existing diseases, biotechnology provides a new light of hope. Further advancements in biotechnology are going to radically change our existing approaches to health care.
Research and development has afforded many patients access to new and better medicines and some diseases, once considered fatal, have now evolved into chronic diseases that can be managed, due in large measure to advances in diagnostic procedures and new medicines developed by biotechnology and pharmaceutical companies.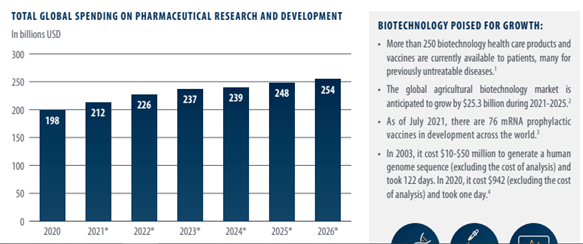 Additionally, revolution within biotechnology and artificial intelligence has already helped to drive change beyond the health care sector across agriculture, IT and nanotechnology.
The global agricultural biotechnology market is anticipated to grow by $25.3 billion during 2021-2025. Globally, the companies, universities and governments are estimated to spend $1.2 trillion over the next five years. Recombinant DNA technology, molecular biology, genetic engineering, monoclonal antibody-based technology, lipid/liposome technology, genomics – are some of the prominent areas of scientific research and thus are going to attract a major chunk of these investments. For sure, the biotechnology sector is poised for future growth over a long time horizon.
A comparative analysis between the major holdings as of 23rd February, 2022 (after rebalancing) and that of 31st December, 2021 (before rebalancing); provides a very interesting picture. Instead of holding 3 percent or more in 19 stocks in December 2021, First Trust NYSE Arca Biotechnology Index Fund has now invested significantly (3 percent or more) in 28 stocks. As a result, such holdings constitute around 94 percent of its portfolio as compared to 70 percent earlier. This denotes that the fund is diversifying its portfolio with approximately equally weighting the stocks. It seems to be fulfilling an objective of investing in growth stocks. The funds have made major holdings in 10 additional stocks, which also includes Medtronic PLC (MDT), a medical devices firm, and Nektar Therapeutics (NKTR), a pharmaceuticals company. Other inclusions from biotechnology sector include Neurocrine Biosciences Inc. (NBIX), Exelixis Inc. (EXEL), Alnylam Pharmaceuticals Inc. (ALNY), Ionis Pharmaceuticals Inc. (IONS), Biogen Inc. (BIIB), Alkermes plc (ALKS), Grifols, S.A. (GRFS), and Exact Sciences Corporation (EXAS). The only stock which has been removed from its major holdings is bluebird bio Inc. (BLUE).
Major Holdings as of 23rd February, 2022: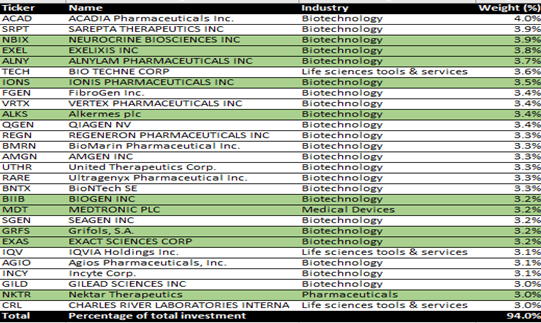 Source: First Trust NYSE® Arca® Biotechnology Index Fund
This change in composition has been quite impressive, and has been good from this Fund's point of view. Most biotechnology stocks have outperformed First Trust NYSE Arca Biotechnology Index Fund. Only EXAS, BIIB, and ALNY have failed to outperform FBT. However, these three stocks have shown lesser volatility. The exclusion of bluebird bio Inc. has really been helpful for FBT, as it has fallen by almost 44 percent over the past 3 months.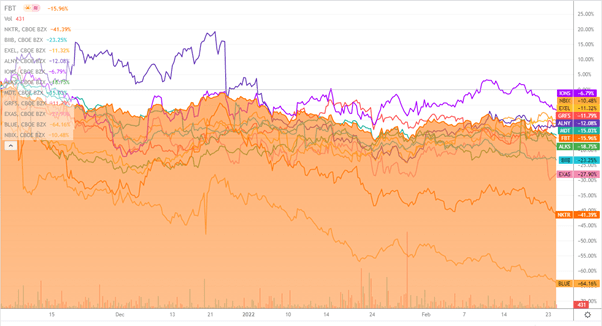 Source: First Trust NYSE Arca Biotechnology Index ETF Stock Price Today, Quote & News
The Price multiples are quite high when it comes to First Trust NYSE Arca Biotechnology Index Fund. A Price/Book of 4.07 and Price/Sales of 6 implies that investors are extremely optimistic that the constituent healthcare companies can generate a lucrative and extraordinary future cash flow from its current levels of assets and operations. The fund might seem overvalued at present given the fact that price is on a downward trend. However, in my opinion the fund will be able to replicate its past performance in future, as the growth drivers are very much present.
However, being a biotechnology index fund, it can not overcome its inherent volatility and market risk. There is every possibility of downward price movement with the change in investors sentiment or any negative news about its constituent stocks or the sector as a whole. And since the NYSE Arca Biotechnology Index rebalances its portfolio only once in three months, it cannot take a defensive position under declining market conditions.
Investors might have to suffer unprecedented loss under such circumstances. In order to hedge against such uncontrollable risk, they should look for effective basic option trading strategies, like covered call or protective put strategies. As August 19 call options (6 months from now) are available within the strike price of $155 to $180, and August 19 put options are available within the strike price of $105 to $135, investors can easily protect themselves from suffering huge losses. Moreover the options are available at a very affordable rate. A $160 call option on a $11 premium will be ideal for a covered call strategy. At the same time, a $110 put option on a $2 premium will be ideal for a protective put strategy. Thus, It'll not be a bad idea to hold First Trust NYSE Arca Biotechnology Index Fund over a long term horizon, along with selling a call option or buying a put option to hedge against the market volatility risk.