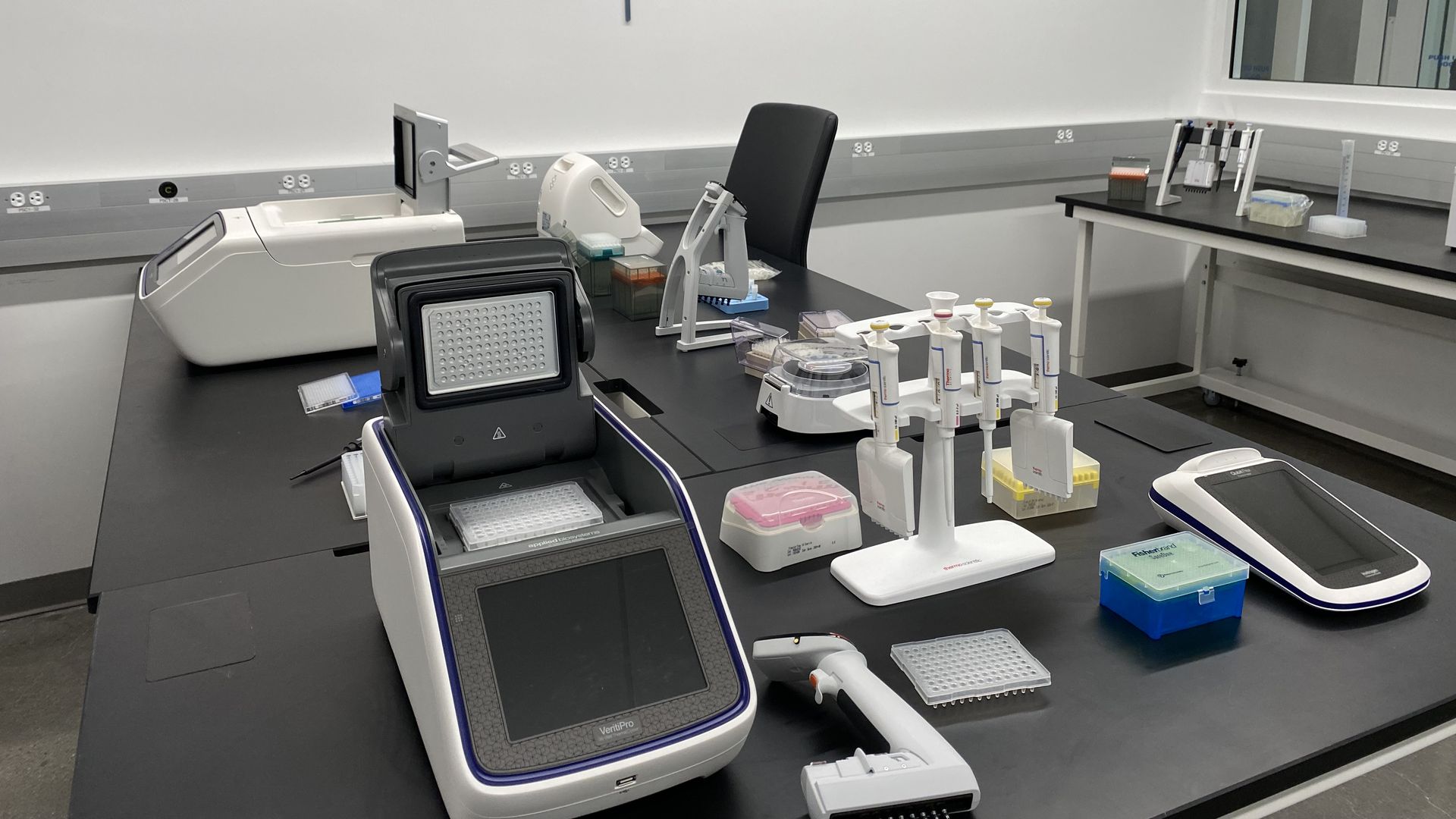 A table full of equipment at Connect Labs. Photo: Jeremy Duda/Axios
Arizona's first shared workspace and laboratory for startups in the biotechnology and life science industries is now open in downtown Phoenix.
Driving the news: Development company Wexford Science & Technology held a ribbon-cutting ceremony for Connect Labs on Jan. 19.
The facility at 850 N. Fifth St. is in a building that's a partnership between ASU, Wexford and the city of Phoenix.
Details: Connect Labs provides office and laboratory space for startups to lease, giving them access to expensive equipment the young businesses might not be able to afford otherwise and fostering collaboration across the field.
The facility is "wet lab" equipped, meaning it can handle things like biological matter, chemicals and hazardous substances.
Why it matters: The Valley is home to a rapidly growing bioscience sector clustered in downtown Phoenix that includes ASU, UofA, NAU and the Translational Genomics Research Institute (TGen).
"This is something that you often find on the coasts, not in Phoenix, Arizona," Tom Osha, Wexford's senior vice president for innovation and economic development, told several dozen people at the ribbon-cutting.
Between the lines: David Krietor, executive director of Phoenix Bioscience Core, downtown's university-led biomedical complex, tells Axios there're at least eight startups in the building already, including six on the fifth floor, which houses Connect Labs, and one in ASU's space.
One tenant is ElectraTect, which is developing a breathalyzer-type device to detect THC.
There's room for dozens more companies, Krietor said.
Zoom in: BacVax, a startup that's developing a vaccine for childhood ear infections, moved into the building in 2021, leasing space from ASU while it waited for Connect Labs to open.
Company president Terry Stull tells Axios Phoenix that BacVax looked at several possible locations, but Connect Labs was ideal because of the equipment it would have access to and the ability to converse with experts in the building and at universities, creating a great intellectual environment.
Yes, and: Regenesis Biomedical Inc. had a lab in Scottsdale, but its converted office wasn't purpose-built for the type of work it does, says Erica Tassone, executive director for life sciences.
The company, which makes devices that treat pain using pulsed electromagnetic field therapy, has about 55 employees, but only two in the life sciences lab.
"It's nice that we don't have to invest the capital to get that equipment," Tassone tells Axios Phoenix. "Instead we can use those resources to do the experiments on the equipment. So it really gives us more flexibility with how we spend our money."
What they're saying: "Phoenix has become an incredible place for semiconductors and electronics and aerospace. The health and biosciences (sectors) are the next big thing here. This is where we're going to see a lot of employment and growth in the market," Krietor said.
Phoenix tends to be "late to the party" on such trends, he said, but when it moves to catch up, it does so quickly.
What's next: ASU and Wexford are planning for a second building for the vacant lot east of the Connect Labs facility, Phoenix Bioscience Core spokesperson Joseph Martin said.